Destination Wedding Photographer
Amy Bennett specializes in destination weddings, whether the destination is her home state of Vermont or the tropical location of your dreams.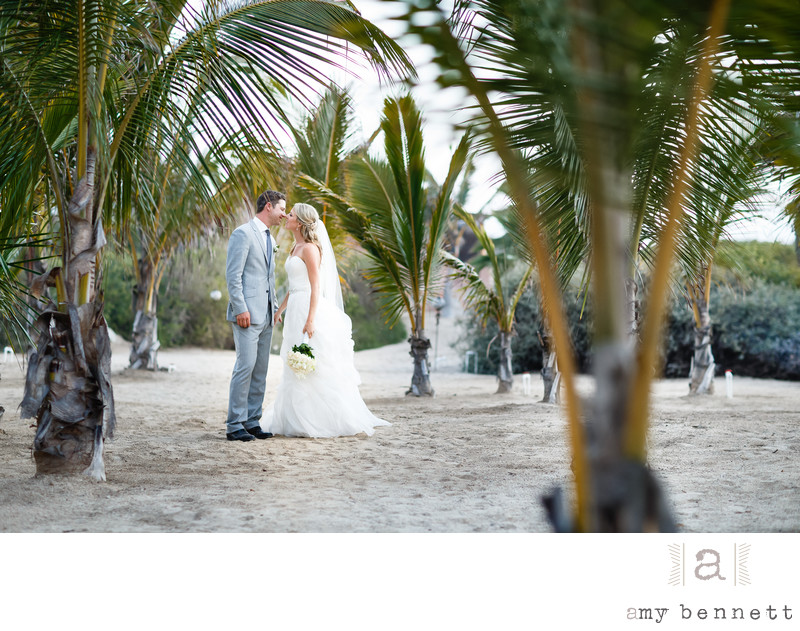 My Background in Destination Weddings
The first weddings I ever photographed professionally were in Cabo, so my destination wedding photography experience is as old as my business itself. Cabo was a great place to start my wedding photography business for two reasons. First, it is a hot spot for weddings and second, at the time, there were not a lot of wedding photographers living in the area. This meant that I had the opportunity to gain a lot of wedding photography experience fast. And I'm no stranger to seizing opportunities.
When I was working in Cabo, I largely worked with clients from afar until their wedding weekend arrived. Most of my clients lived Australia, New Zealand, Canada, and the United States. Because I was on the ground in Cabo, I could help my clients navigate the difficulties and details of planning a destination wedding. In doing this, I became a sort of de facto wedding coordinator. I cannot say that I know as much about planning and coordinating weddings as the professional wedding coordinators I work with now in Vermont. The wedding and event planning industry has grown immensely in the last decade and the wedding industry here is not the same as it was in Cabo.
After Cabo, I lived in northern California for a few years and loved photographing the weddings of California locals and those seeking the west coast for their destination weddings.
I will say that the experience of photographing and quasi-coordinating wedding after wedding at the beginning of my career kickstarted not only my wedding knowledge but also my sincere passion for wedding photography and for creating the best wedding experiences possible for my clients.
Destination Wedding Photography
This gallery has albums of my best destination wedding photographs from the last few years. If you like what you see, let's chat. I want to photograph your destination wedding in a way that is consistent with my portfolio and style while also being unique to you.
Travel + Photography = My Ideal Job
I have always loved to travel. As a teenager, I traveled all over the U.S., Europe, and South America as a competitive ski racer. I brought my camera with me wherever I went and though my parents expected me to return home with photos of the sights and mountain landscapes, the majority of the photographs I took were of my friends and fellow ski racers, smiling in parking lots and on buses. I was clearly destined to be a portrait photographer.
Weddings are the perfect opportunity for me to take beautiful portraits of individuals and groups, as well as couples. Destination weddings take it a step further and allow me to take portraits of people in beautiful, exotic locations like I did with my first camera on those ski trips. Of course now I know how to include the landscapes and scenery, while keeping my focus on the couple and their VIP guests. After all, people are the most interesting subjects and weddings are about celebrating the love between two people, so they should always be the center of the wedding photographs.
Destination Weddings in Vermont
If you're looking for the perfect location for a destination wedding in New England, look no further than the Green Mountain State. Vermont has everything you need for the ideal wedding weekend in any season. And why put in the extra money and effort to go abroad when your guests would relish the opportunity to spend a weekend in Vermont just as much as they'd like to fly to a tropical island for a couple of days?
Locations for a Vermont Wedding Weekend
If you live more than a couple hours' drive from Vermont and the majority of your guests do as well, your Vermont wedding will be a destination wedding. A destination wedding location has two requirements. First, you and your guests need to be able to stay overnight (either where the ceremony and reception will take place or nearby). Second, your wedding venue will provide all of the necessary accommodations so that no one needs to go anywhere. The point of having a wedding weekend instead of a single day of events is to spend more time with your guests and to share with them a location that you love. If your guests have to leave the resort to get food or toiletries, they will miss out on the events and quality time that you've planned.
Some of my favorite venues for a destination wedding in Vermont are: The Mountain Top Inn, The Quechee Club, Basin Harbor Club, Killington Mountain Resort, Stowe Mountain Resort, and The Equinox Resort.
Ski resorts are ideal for a Vermont wedding weekend because they offer on-site activities, different places to stay based on guests' budgets, on-site wedding coordinating and food service (and often on-site florists and preferred vendors), and communal places for you to hang out with your guests.
Reunion of Locale
Many people that choose to get married in Vermont have a special place for it in their hearts because they spend formative time there as a child or young adult.
For college alumni: Burlington is a college town and many of my clients met at UVM or Champlain College and remember the school and town as being instrumental in the beginning of their lifelong relationship. Many colleges and universities will host weddings or rehearsal dinners, so if your school spirit is still strong for your alma mater, you may want to consider using it for one or both of these celebrations.
Even if you don't want to actually host your event at your alma mater, you can use your Vermont destination wedding to revisit some of your favorite Vermont locations from your college years with your wedding guests. If you still have lots of friends from college, this will be a class reunion (in addition to a reunion of locale)--but better, because only the people you like best will be there.
For families: Many of my clients vacationed in Vermont or spent lots of time visiting relatives in Vermont as children. When you fall in love with Vermont at a young age, the bond is unbreakable. And when you spent lots of time in Vermont with family, it is likely that your family would love to have a reunion of locale in conjunction with the reunion of relatives at your wedding. If you still have a family home in Vermont, this can be the perfect place to host either the wedding ceremony itself or pre-wedding events like the rehearsal dinner. If you vacationed in the same cabin or at the same lake every year, see if you can rent one of those places in order to evoke the nostalgia for your family and friends who vacationed with you back in the day. Nostalgia is great for creating beautiful, emotional wedding photographs.
Destination Wedding Benefits
The best part of any destination wedding is this: your wedding is a vacation. You get to leave all the stress behind and completely immerse yourself in the celebration that you've been working toward for months. Everyone you love is in one place and you can spend quality time with each and every one of your guests without stressing about the time constraints of a typical wedding reception. (More about quality time and 5 love languages at your wedding here.) Whether your destination is Vermont or somewhere else, call me and let's discuss how to make your wedding dreams a reality.