Vermont Wedding Photography at Basin Harbor Club

This photo of Stu and Corinna was taken at the Basin Harbor Club in Vergennes, Vermont. The two of them were so connected on their wedding day. It made for stunning imbalances and portraits of the two of them. This photo was taken on the back porch of the inn, Under the draping ivory leaves. It was raining that day, and Corrina needed to stay out of the ring because her beautiful wedding dress had dipped color green at the bottom. It couldn't get wet, or the color would have run. So I was standing in the rain while my husband David held an umbrella over me and my camera equipment. The light was gorgeous. Because the sky was completely covered with rain clouds, I could photograph anywhere which is a gift for wedding photographers.

I love the connectivity in this photo. Stu is holding on tight to her interlocking his hands behind her back. She is slightly squeezing his shoulder and had her nose pressed into his cheek. She is entirely in the moment, and if I can remember correctly, they were chuckling about the fact that it was raining so hard on their wedding day and they didn't care. Not one little bit. They were so happy and content at that moment. This photo was taken during their first look portraits in session.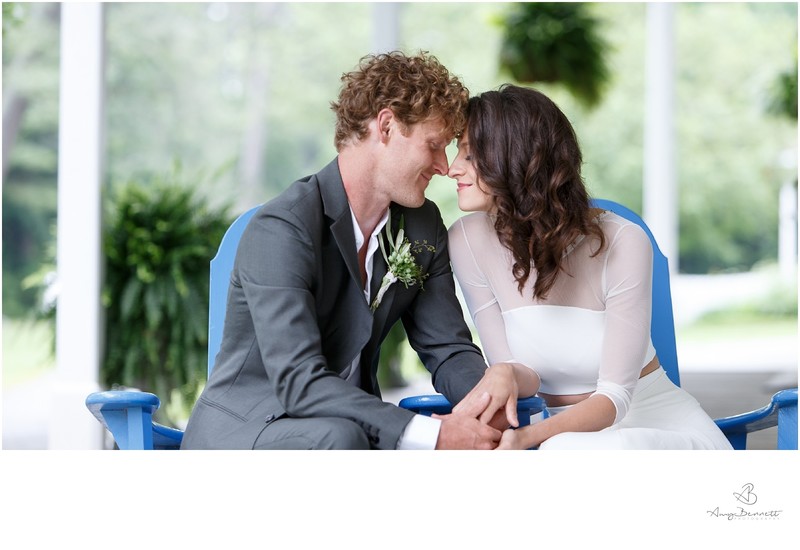 Your wedding day is a huge deal. Maybe it's a day that you have been waiting for your whole life. Or perhaps it's a day that you are planning on the fly. I think it's essential to remember that your wedding day is about your friends and family and most importantly it is about your fiancé. You need to think about what matters most on your wedding day.

Weddings are about the coming together of family and friends to celebrate the joyous occasion of two people making a massive commitment to each other. The cake, the dress, the gifts, and all the other details that you need to plan our a part of the aesthetics of the day, but they are the most meaningful things from the day. The most significant parts will happen as the day progresses. Those are the things that you can't plan thoroughly. Those are going to be the moments that stick with you for a lifetime. And the moments, that you are going to want your photographer to focus on capturing.

Vowing to care for your partner in front of a crowd of people, even though they are your loved one ones and close friends, changes you and your relationship. Weddings are a big deal, and your marriage is a formidable undertaking. People often say that you should plan and care for your marriage with the same precision that you will plan your wedding for the next year. I believe that's true, but I also think that you should prepare for the special moments on your wedding day as much as you plan the details. The checklists only take you so far. You need to think of your wedding as a series of critical moments. Moments that you want to infuse with meaning, emotion, and care.
Book your wedding at The Basin Harbor Club
Website: The Basin Harbor Club
Phone: (800) 622-4000
Location: 4800 Basin Harbor Rd, Vergennes, VT 05491
Location: 4800 Basin Harbor Rd, Vergennes, VT 05491.